Custom Cowbell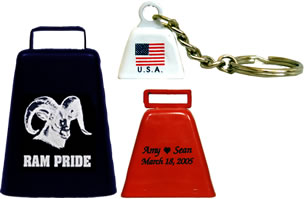 For promotional events, sporting events, fund raisers
or as an award or trophy.

Cheer your favorite sports team onto victory, make a lasting impression with your customers or potential clients, or award that extra effort with your very own custom designed cow bell.

An ideal fundraiser for booster clubs or any type of club or organization. For businesses Custom Cow Bells with your company's logo create a great promotional item for your customers or employees.

We offer Custom Cow Bells in three distinct styles. Kentucky Cow Bell, Long Distance Cow Bell, and Souvenir Cow Bell. Each style has multiple sizes to choose from so finding the right size for your needs is easy.

The bells may be painted in your choice of nine standard colors (Custom colors are available for an additional charge) and if desired a one color logo is added on one side of the bell. On our Souvenir Cow Bell is an optional key chain that may be added on selected bells. For full program details on each bell click the link for the bell you are interested in.
Choose a cow bell type for more information

Custom Kentucky Cowbells
This cow bell has a dull tonal sound when rang which can be heard at fairly long distances. Available in 6 sizes ranging from 2 3/16 to 4 7/8" in height.
Steel bell. Loop and eye that holds clapper is one piece construction. Electrically welded to give clean, smooth surface.
Custom Long Distance Cowbells
This cow bell has a sharp tonal sound when rang which can be clearly heard at long distances. Available in 4 sizes ranging from 1 11/16 to 3 5/8" in height. One piece steel, no rivets. Our most popular size.
Custom Souvenir Cowbells
Miniature Cow Bells for key chains, promotions, giveaways, or just as a souvenir. These mini cowbells are available in 3 sizes and 3 finishes (Nickel, Copper, and Solid Brass). Top has choice of rectangular or round loop. Optional Key Chain may be added to two sizes of this bell.

About Us
|
Contact Us
|
Frequently Asked Questions
|
Site Map
Shopping Cart
|
Checkout
|
Privacy Statement
|
Return Policy
|
Secure Ordering
|
Shipping Information
Place your order online or call us at 1-800-251-8824
Copyright Red Hill General Store ©2022 All Rights Reserved. Use of this site is subject to certain
Terms of Use
.
Accessibilty Statement