Custom Long Distance Cowbells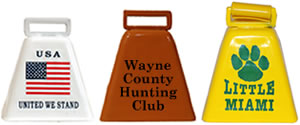 The Custom Long Distance Cow Bells have a sharp tonal sound when rang which can be clearly heard at long distances.
Available in 5 sizes ranging from 1 11/16 to 3 5/8" in height.
One piece steel, no rivets.

Size
8LD
Length: 2 1/8"
Width: 1 5/8"
Height: 1 11/16"
Height with Loop: 2 3/8"
9LD
Length: 2 1/2"
Width: 1 7/8"
Height: 1 7/8"
Height with Loop: 2 5/8"
10LD*
Length: 3"
Width: 2 3/8"
Height: 2 3/4"
Height with Loop: 3 1/2"
12LD
Length: 4"
Width: 2 15/16"
Height: 3 5/8"
Height with Loop: 4 1/8"
*The 10LD is our most popular bell.
Standard colors

Black

Metallic Silver
(PMS 877C)

Blue
(PMS 301C)

Red
(PMS 207C)

Green
(PMS 554C)

White

Metallic Copper
(PMS 8560C)

Yellow
(PMS 109C)

Metallic Gold
(PMS 871C)
Program Details & Options
1. Base rate includes the bells being painted in your choice of one standard color and if desired with your one color logo Custom on one side. Total imprinting area is 1 1/2" width (across the center) and 2" height.
2. Logo may be Custom on second side for additional charge. Logo may have additional colors and may be added to the opposite side for additional fees.
3. A different logo may be added to the back of the bell if desired. The additional logo will require separate setup fees and color fees.
4. One time setup fee for each color in the logo. (If logo is added)
5. Minimum order of 25 bells required. For bells with 2 or more colors in the logo a minimum order of 50 bells is required.
6. Approximate time of delivery 3-4 weeks from placement of order.
7. All sales are final. Custom Long Distance Cow Bells may not be returned.
8. Any changes to the order after the order is finalized with us are subject to a $20 change order charge.


A generic sample bell is available for $4.95 plus shipping.
This sample is limited to one per customer.
To order a sample bell call us at 1-800-251-8824.

Please note: There will be a digital proof fee of $16.00 for each proof that we provide to our customers.

Color
We offer these bells in nine standard colors. Custom colors are available for an additional charge. This charge may vary depending on the cost of the paint color. If you desire a custom color we will request a clear, exact sample of the color desired. Either a printed example or one sent by email is acceptable.
Logo
Logos may be submitted to us by email in any of the following formats: Adobe Illustrator, Adobe Photoshop, TIFF, GIF, JPEG, or EPS.
Other formats such as Microsoft Word, Microsoft Word Art, Microsoft Publisher, PDF, Bitmap or Quark are not acceptable. Logo should be camera ready or black and white line art. Please separate art for two color logos.
We need the clearest, best image that is possible to be sent to us.
The better the image the better your bell logo will turn out.
How to obtain a price quote:
You may receive a price quote on your custom designed cow bell by phone or e-mail.

Or




About Us
|
Contact Us
|
Frequently Asked Questions
|
Site Map
Shopping Cart
|
Checkout
|
Privacy Statement
|
Return Policy
|
Secure Ordering
|
Shipping Information
Place your order online or call us at 1-800-251-8824
Copyright Red Hill General Store ©2023 All Rights Reserved. Use of this site is subject to certain
Terms of Use
.
Accessibilty Statement